diablo 3 gold,diablo iii gold,d3 gold,www.diablo3golds.us,guild wars 2 gold,gw2 gold,gw2 gold for sale,www.guildwars2mvp.com,WoW Gold,Cheap WoW Gold,Buy WoW Gold,www.wowcasa.com,Maple Story,MapleStory Mesos,Maple Story Mesos,www.maplestorymvp.com,Runescape Gold,RS Gold,Runescape,www.rstmall.com,EVE ISK,EVE Online ISK,EVE Online,www.evemvp.com,North Face Outlet,North Face Clearance,North Face Jackets,www.northfacemvp.com,diablo 3 gold,d3 gold,diablo 3 power leveling,www.d3jet.com,China Wholesale,China Wholesale,Cheap Wholesale,www.wholesalerar.com,Fashion Shoes,Fashion Bags,www.fashionways.net guild wars 2,guild wars 2 gold,guild wars 2 power leveling,www.guildwars2vip.com,Guild Wars 2 Gold,GW2 Gold,Guild Wars 2 Power Leveling,www.guildwars2casa.com,WoW Gold,Cheap WoW Gold,Buy WoW Gold,www.wowgoldapp.com,FFXI Gil,Final Fantasy XI Gil,Final Fantasy XI,www.ffximvp.com,Aion Kinah,Aion Gold,Aion Kina,www.aionmvp.com,Runescape Gold,RS Gold,Runescape,www.runescapecasa.com,diablo 3 gold,diablo iii gold,diablo 3 power leveling,www.diablo3s.com,Adidas Predator,Adidas Adipure,Adidas F50 Adizero,www.shoesrar.com,Replica Handbags,Replica Watches,Replica Handbags,www.replica.im,CJC 1295,CJC 1295,www.cjc-1295-no-dac.com
We are proud to announce we are now an IHRA member track
we will be sending a team to IHRA Bracket Finals in 2014 held in
Memphis TN
Go to ihra.com for full details


This Saturday our 2014 IHRA Points season kicks of with the gates opening up at 11 , time trials at 12:30 , and race at 3:00 .

When you pay your entry fee at the gate you get a coupon for a Hamburger or Cheeseburger and Coke on us .

Make sure you have your IHRA super series number , call IHRA or go to the IHRA.com website .

REGULAR SAT. NITE RACES
RICKS POWDER COAT SUPER PRO SPECTATOR ADMISSION $10 (12 & UNDER FREE)

$50 ENTRY FEE $30BUYBACK

$1100 TO WIN

$500 RUNNER UP

$100 SEMIS

$50 1/4 FINALIST


BULLET CAMS FOOTBRAKE

$40 ENTRY FEE $20 BUYBACK

$1,000 TO WIN

$300 RUNNER UP

$75 SEMIS

$50 1/4's

THANKS and we look forward to seeing everyone this weekend!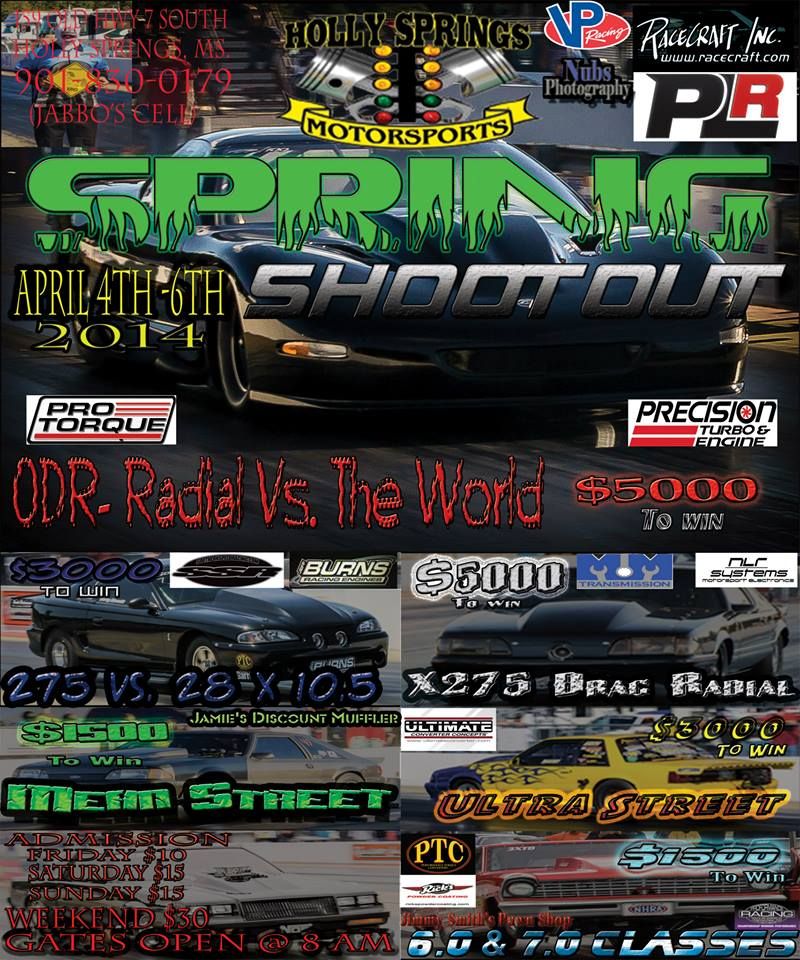 We will host another Scotty Richardson School
here at Holly Springs in 2014
Aug 8 - 10

Coming in 2014 the OUTLAW Pro Mods are coming back!!

The dates of the pro mods will be Saturday June 7th and Saturday Sept 20th.

Who will be the first to go 200 MPH at Holly Springs ! Bubba Stanton holds the speed record at 196 MPH

Mark your calenders now and make plans to come to the fastest show in Holly Springs!



Saturday Mar 29th
PO BOYS RACING
presents
HEADS UP MADNESS
Mean Street and 28 vs 275 Shootout
28 vs 275 $200 entry fee WINNER TAKE ALL
Mean Street $100 entry fee $1000 to win $200 runner up $100 semis
SMALL BLOCK NITROUS !!!
draw opponent out of the hat!
$500 entry winner take all

If you have any questions feel free to call me on my cell at 901-830-0179 Jabbo






>